The U.S. labor market has a people problem; it can't get enough of them. While governments across the globe had us locked down at home instead of heading out to work in March 2020, it seems as though the problem has gone too far the other way.
A notion referred to as The Great Resignation, workers are quitting their jobs at historic rates — playing out during a time when job vacancies are at an all-time high. The consequence of this paradox? A rampant labor shortage across all U.S. industries.
Is the pandemic really responsible for all of this?
On the surface, it may appear that the labor shortage occurred as a direct result of the COVID-19 outbreak. But the reality is that this was merely the catalyst that sped up the underlying causes of the crisis. The Guardian suggests that the quitting trend was "driven by an economic and psychological shift as employers struggled (and failed) to get their staff to return to industries that too often treat their workers as dispensable". However, it proceeds to state that the situation is far more complicated than that.
The 3 Amigos Recruitment Agency recounts its experience with a formerly thriving manufacturing company: "companies who routinely received 160 applicants per month are now only receiving six, despite offering a competitive salary and attractive staff benefits". This small example is representative of many businesses, demonstrating that the work shortage cannot be solely attributed to poor wages and working conditions.
Among a lack of childcare access, booming business start-ups, and persisting long COVID symptoms — early retirement is one of the reasons for not returning to work or seeking new employment opportunities. The Morning Consult indicates that it may even be a result of an aging baby boomer generation who are hesitant to resume jobs where hybrid-work environments have taken over as one of the "new norms". With this in mind, the Great Retirement seems a more appropriate name for the current crisis.
Two years on, the job market is still struggling to recuperate its labor force
Job openings and quit rates both reached the highest levels in history in March, as a shortage of available workers continues to put pressure on the U.S. labor market. According to the Bureau of Labor Statistics, the number of job openings reached a record 11.5 million — an increase from 11.3 million since the end of February.
Taking the lead were retailers, whose businesses added a total of 155,000 job openings throughout the month. Durable goods manufacturers came in second place, offering 50,000 job positions to the nation. But despite a downfall in the number of vacancies this year, the education and health sectors remain at the top of the industries in desperate need of workers, according to the Statista Research Department.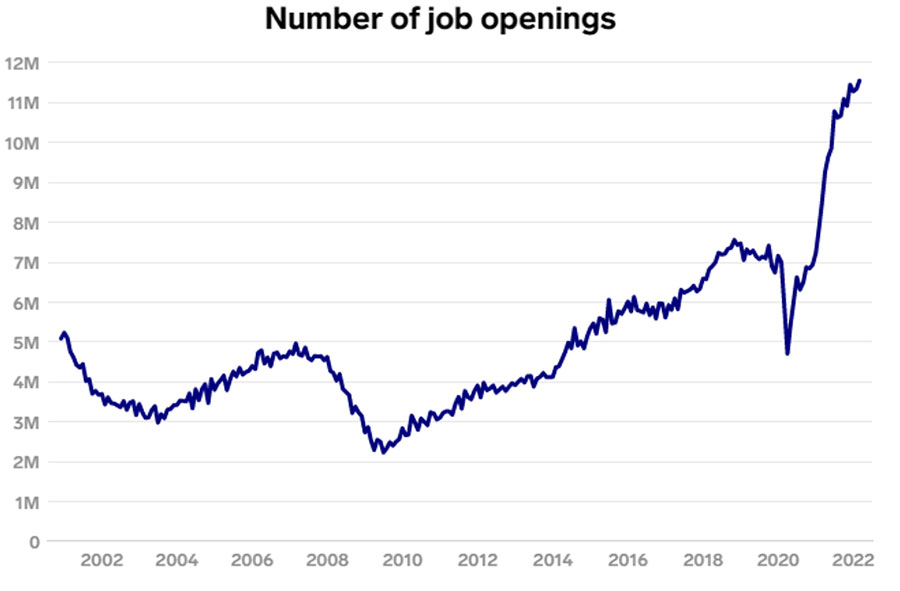 Since the Great Resignation last year, the JOLTS report has tracked the labor shortage and its severity. It recorded the surge of job openings throughout 2021 that has subsequently stabilized at a rate almost twice as high as it was during pre-pandemic life. However, the number of US citizens in search of employment recovered at a much slower pace — dramatically failing to close the gap between supply and demand.
Expert economists have predicted that it will be a while before we achieve a healthy balance. In fact, the Insider reports that there were approximately two openings for every US citizen looking for work in March. And even though the economy has recuperated almost 93% of all jobs that were lost during the pandemic, millions of formerly-employed Americans remain reluctant to fill these vacancies.
Workers who never left the labor force are only exacerbating the issue. The Great Resignation has given the green light for further employees to quit in the quest for better salaries and working conditions. And for the tenth consecutive month, 4 million workers have done so — leaving behind positions that are even less likely to entice the unemployed population and leaving the unequal job to worker ratio stagnated.
Can companies overcome the crisis?
As previously established, low wages and inadequate staff benefits are not leading causes of the labor shortage, putting businesses that are desperately trying to recruit in a helpless situation. Old age, illness, and a lack of childcare seem to be the primary reasons that have discouraged U.S. citizens from looking for employment in recent times. But that's not to say that these issues would put off international job seekers.
Hiring overseas is one of the quickest and easiest solutions to alleviate the widespread labor pressure. By expanding their candidate reach and tapping into a wider talent pool, domestic industries are able to bring in thousands of willing-to-work immigrants which, over time, will soften the blow of the worker shortage and resignation crisis.
While companies may be deterred by a seemingly complicated hiring process, there are law firms and specialist recruitment agencies that streamline the procedure. Wyngaard Law and the 3 Amigos Recruiting work in tandem to help immigrants find employment and U.S. businesses expand their workforce. For employers in need of seasonal staff or permanent workers, these firms facilitate the recruitment process by bringing over Puerto Rican citizens and immigrants with H2B and TN visas.